The outbreak of the COVID-19 pandemic in the year 2020 has, undoubtedly, transformed how we live and carry out our activities today. Everything, from the way people are working to the way they are shopping, even essential products, has been impacted. But the impact of COVID on digital media has been note-worthy.
Digital media includes the posts that we see on social media, the ads that we see before a YouTube video, the information that we consume in the form of graphs on our screens, etc. It is a representation of something in the digital form.
The impact of COVID on digital media has been such that there has been a meteoric rise in the amount of media that is being shared on the internet on social media by companies belonging to diverse industries.
The rise in the content that has been created and shared in the form of digital media has been high organically. In addition to that, companies have also spent a substantial amount of their marketing budget on digital ads.
In this blog post, we are going to cover topics that will help you know more about the impact of covid on digital media.
Let's get started!
Digital Ads Spending
Digital ads are those ads that are placed over the internet and are targeted to a pre-defined audience. Digital ads are in total contrast in comparison to traditional ads which can be seen by everyone.
Traditional ad spaces like billboards in prime locations cost a fortune. But who would you advertise to if there's no one on the road to look up to the billboard? The same amount of money invested in digital ads would give much better results.
With the help of digital ads, the activity of the leads can be tracked and remarketing can be done to convert sales.
Check out this interesting bar graph by Statista that shows the increase in digital ads expenditure made by Indian companies from 2017-2020 and expected figures for the year 2021.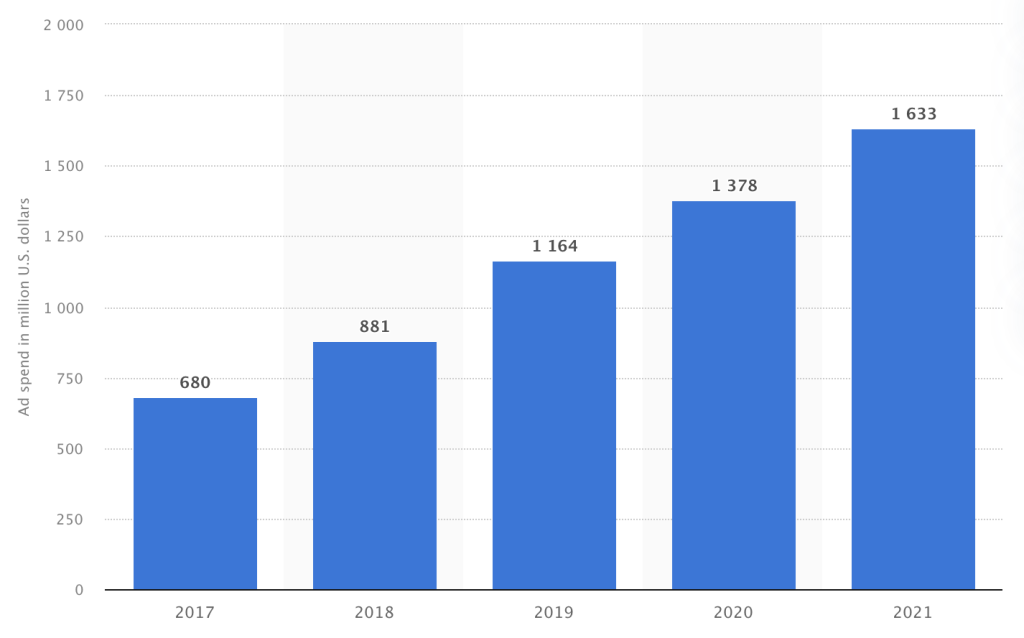 From 680 million USD in 2017, the number nearly doubled to 1378 million USD in pandemic-hit 2020.
One of the major factors that have contributed to the rising investment in digital ads is the impact of COVID-19 on print media as well. As the newspaper and magazine hard copies went out of public circulation, companies had to move to digital ads.
Having seen this, it is time to go to the next part of this blog article which saw the biggest change due to COVID.
Increasing Internet Usage
When the decade of 2010 started, the internet in a country like India was neither cheap nor fast. For a 1 GB data pack, a mobile phone user had to pay nearly 300 rupees. In addition to that, not everyone had access to smartphones.
But soon, two things happened that drastically changed the scenario of internet usage in India – 1. Smartphones became available at cost-efficient prices, and 2. Jio started providing free internet access to its users for 6 months in 2016.
Mukesh Ambani's Reliance Jio disrupted the telecom industry by providing free 1 GB of internet per day to its users for 6 months. Can you imagine the effect that it must have had on the number of internet users in the country?
Factors such as cheaper data plans, a wide range of smartphone options to buy from, and the desire to be digitally connected have led to an increase in the number of internet users. Check this out –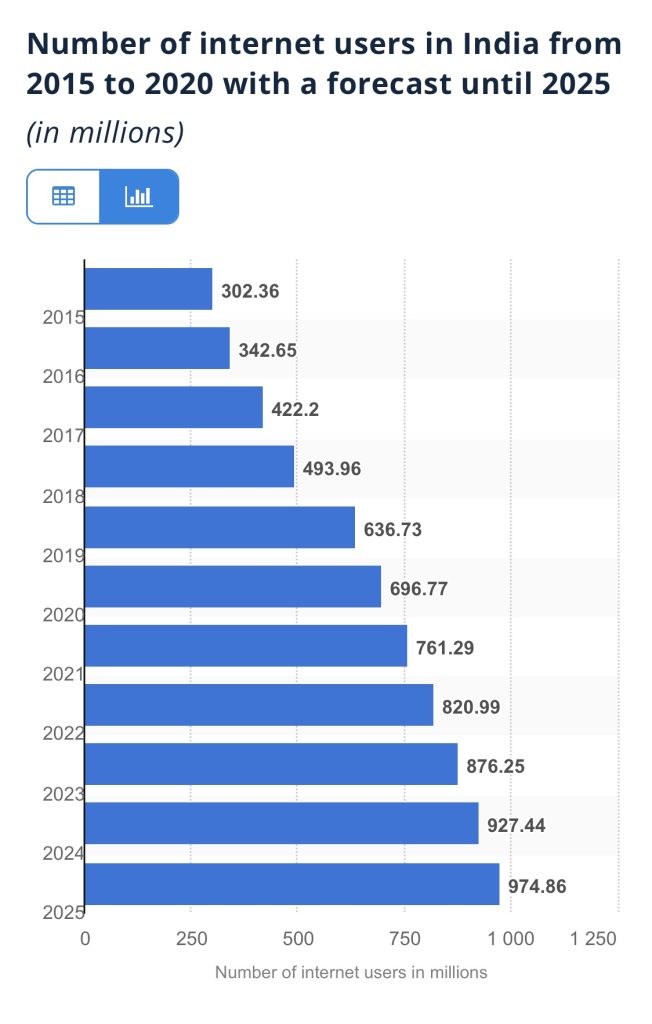 When the lockdown was implemented, people had no chance to go outdoors for entertainment. In such a situation, people started consuming more and more internet.
The most common uses of the internet were on things such as watching shows and series on OTT platforms, watching YouTube videos, playing online games, connecting with friends and family over video calls, learning a new skill in online workshops, and sometimes doing online shopping.
The internet was being used by people of all ages and at all times now, all thanks to COVID.
Surge in Social Media Usage Due to COVID-19
The pandemic left everyone hooked to their phones, either checking out others on social media or being a part of the viral social media challenges. Apart from the millennials, even the older generations started marking their presence on social media.
Here's a stat from Data Reportal indicating the use of social media during the peak of the pandemic.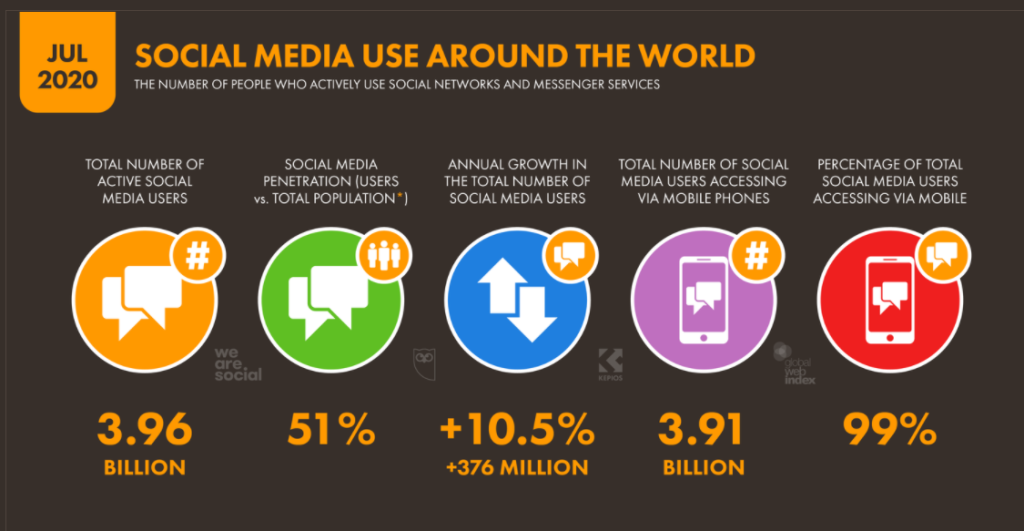 And another stat helps us understand the increase in the use of social media across the world in different countries.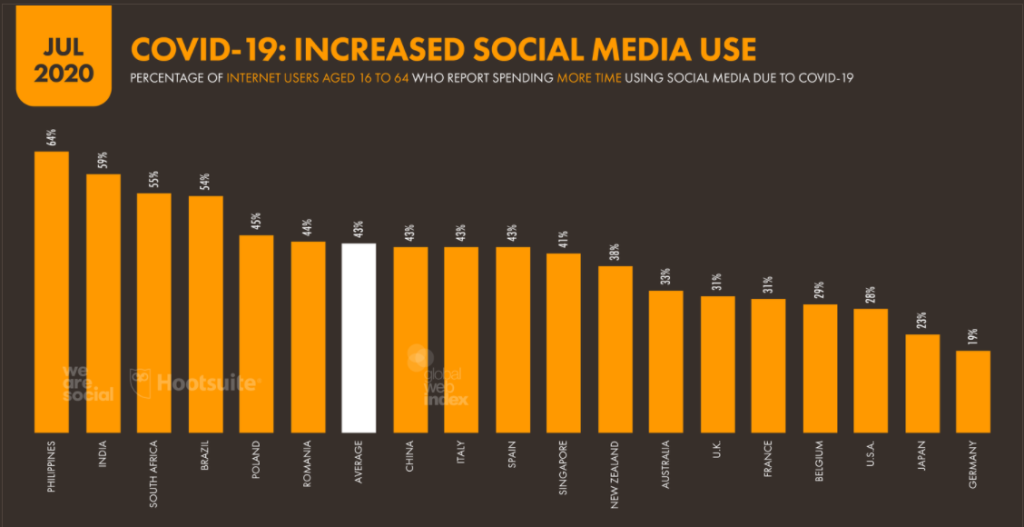 This motivated businesses to start creating a strong presence on social media platforms and capture the attention of their potential customers. With this, we also saw an increase in the competition on social media since every business was giving its best.
In such cases, the companies that made it to the top were the ones that carefully analyzed their social media campaigns and took steps further based on that data.
This brings us to the next part of our blog wherein we'll see how companies from different industries maximized their digitization efforts in an attempt to fulfill their business objectives.
Impact of COVID on Different Industries: Rising Need of Digitalization
As soon as lockdowns were announced and implemented worldwide, companies in different industries rushed towards digital media to engage with customers, promote products to them, and make their products and services available through their websites.
The positive impact of COVID on digital media was evident when the companies in India started adopting digitalization by and large. The industries that made extraordinary inroads with digital media are as follows –
Banking Industry
Cashless transactions through online payments started picking up as transactions were happening over the internet.
As a result, leading banks revamped their websites and mobile applications and started rolling out digital ads to encourage people to open a new account with them.
Digital statements of accounts were made available by the banks so that customers would not have to visit their local branch.
Banks also rolled out campaigns, made videos, and shared them across social media platforms to gain customers' trust and look innovative even in times of crisis.
If this intrigues you, you can learn more about the digital transformation in the banking sector.
Here's how HDFC Bank chose to raise awareness about secure banking through social media: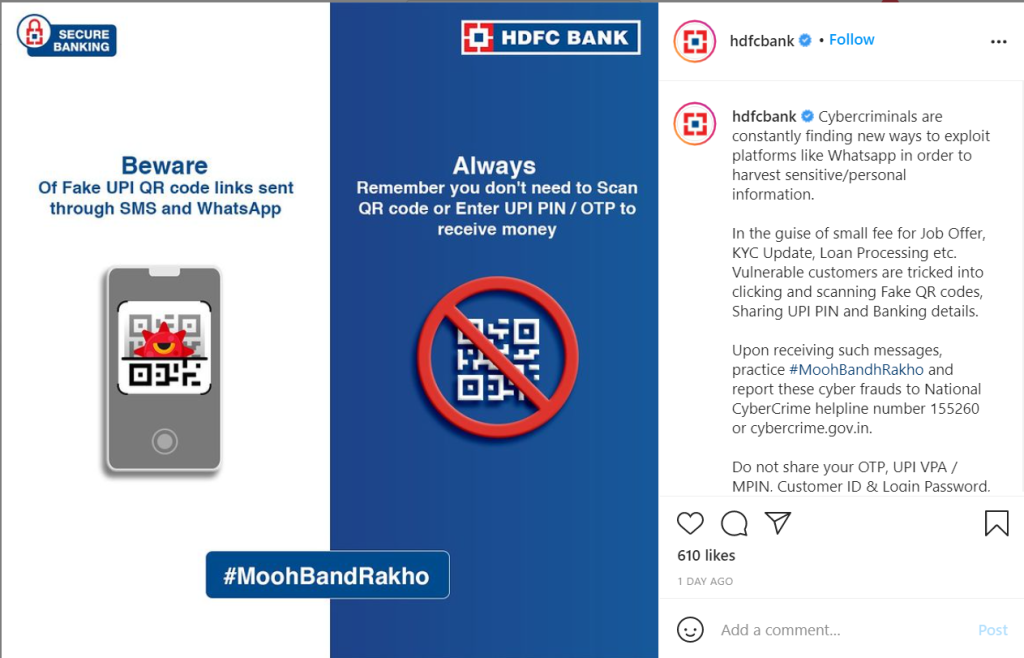 Ecommerce stores
Ecommerce stores have always been using digital media very effectively but in times of COVID, they became more aggressive.
More and more retailers also started setting up shop on eCommerce platforms to survive. Customers also signed up and started shopping online.
Essentials like clothes and accessories, office supplies, electronics, and grocery stores were in high demand, and stores that were selling these products increased their online sales with the help of digital marketing.
Also, eCommerce stores spent 24% of their marketing budget on digital ads. Have a look at the graph by Statista below.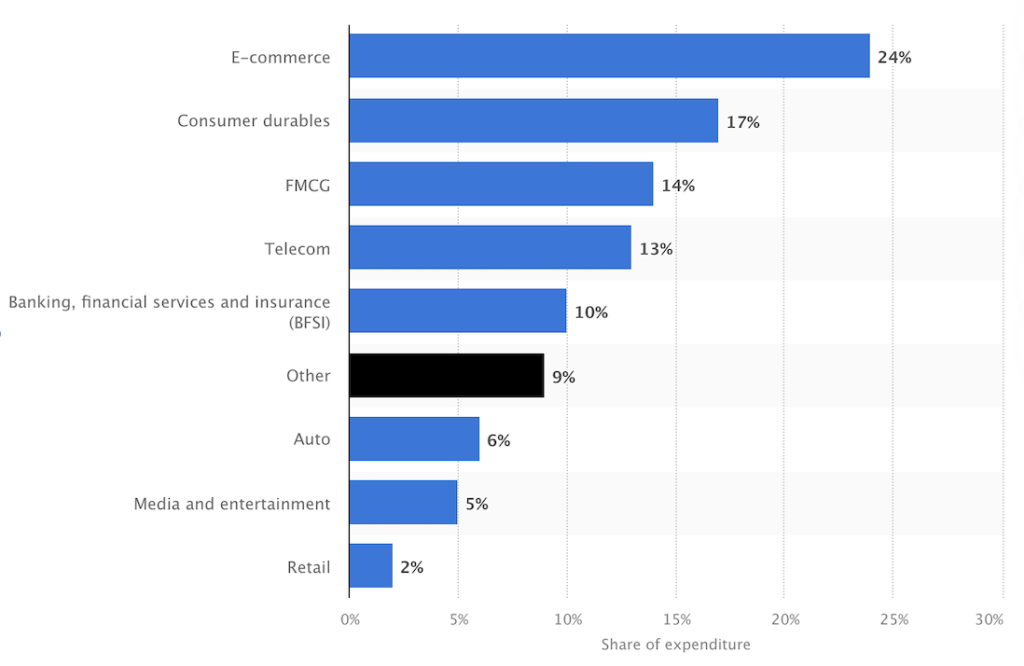 So if you're in the eCommerce space, here are some Instagram tools that every eCommerce marketer should know about.
Real Estate
The real estate industry saw digital media as a way out to show prospective buyers properties by circulating digital catalogs of properties, using AR & VR to give virtual tours of properties, listing about spaces on real estate websites, etc.
Here's how virtual tours in real estate work:
Big developers made use of artificial intelligence to give prospects a tour of their upcoming properties and that worked well for them.
There would be no chance this would've happened 10 years ago but the impact of COVID on digital media changed everything, including the real estate industry.
Travel and Tourism Industry
The travel and tourism industry made marvelous use of digital media in the COVID-19 periods and this could obviously not be offering discounts on tour packages.
What travel companies did was create nostalgic videos that reminded people of their favorite tourist destinations. The main reason those travel companies did this was that they wanted travel to be on people's minds and they wanted it to be the first activity that people do as soon as the permission to travel would be granted.
Travel companies created to-do lists at famous spots, published blogs about the best places to visit after lockdown, started creating reels and youtube shorts that included mesmerizing photos and whatnot.
They also adopted influencer marketing and benefitted the most from it. For example, the famous hotel chain Ritz Carlton partnered with 2 influencers – Jack Morris and Travel Awesome who have a combined following of around 5 million.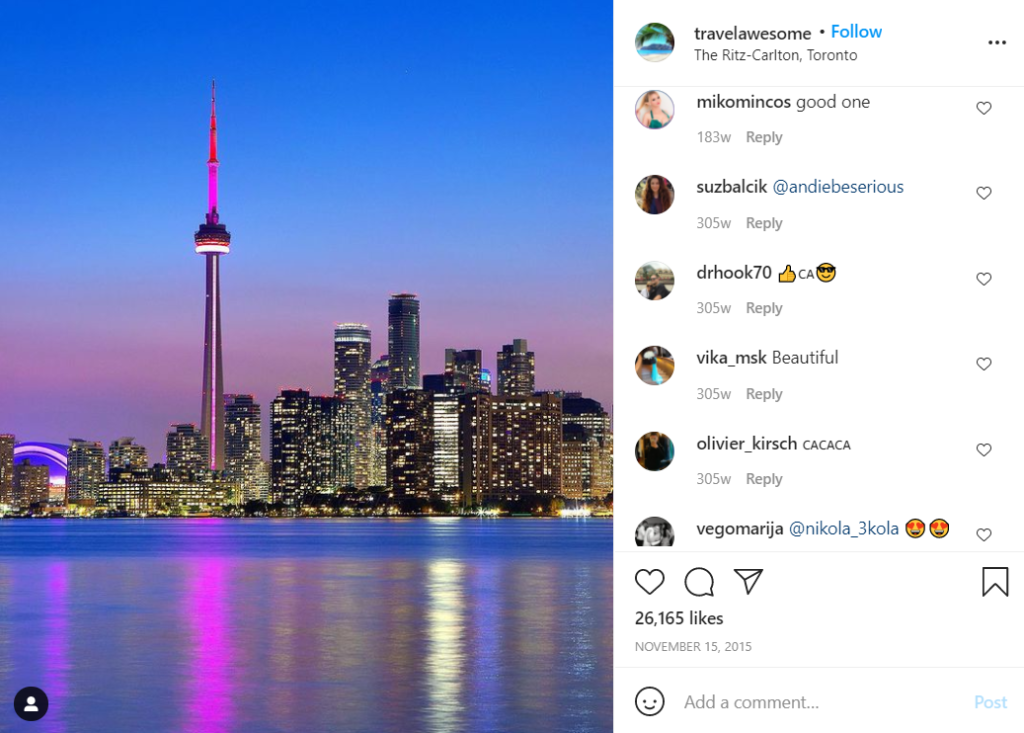 This helped them attract the younger generation towards luxury travel.
This strategy worked really well and famous tourist places in India once saw tourists arrive in large numbers and none of this could've been done without leveraging the power of digital media.
The question that comes to our minds now is, "What next?". What can we expect to happen next? Because technology is disruptive and new technologies are making their way into the world every day.
The road ahead
The biggest takeaway from here would be to start adopting digitalization in our activities. The first reason is, to keep up with the competitors and the demands of the consumers.
Secondly, digitalization has made it very easy for companies to carry out their activities and marketing efforts, especially with the use of digital marketing.
Digital marketing has proved to be an efficient and cost-effective way to promote products/services.
Thus, if you're a student or a working professional, then now is the time to start upskilling yourself in digital marketing with an MBA in Digital Marketing which prepares you for the corporate world in 11 months!
And if you're a business/company owner, then you must consider upskilling your employees with digital marketing so that the business processes can be carried out seamlessly.
IIDE's Corporate Training Vertical offers customized digital solutions for companies and trains their employees.
Being digitally adaptive is the way forward for everyone today, the sooner the better!
We hope this blog has been an insightful read.
Author's Bio
Karan Shah
Founder and CEO at IIDE
Karan Shah is an Edu-preneur, Tedx speaker, Harvard alumnus specializing in eCommerce, and the founder of IIDE – The Digital School.
He is a reputed author on the topics of education, digital marketing, and Ed-techs. Over the years he has penned a plethora of articles in leading news outlets such as Entrepreneur, BusinessWorld, Education Times, and Youth Magazine to name a few.